San Diego, CA (PRWEB) April 19, 2013
JJ Brawley, owner of two local fitness boot camp locations, including North Park Fit Body Camp, is hoping that the community will come out in force to help him raise funds for Albert Einstein Academy Charter School. The school is badly in need of equipment for their new fitness program and Brawley is anxious to help.
Albert Einstein, formerly known as Brooklyn Elementary is my old elementary school and it was a great place to spend my childhood, says Brawley. Now I have a great life helping others to get fit and stay healthy and I love the idea of helping my old school teach their kids the same thing.
The fundraising effort is part of Brawleys Calories for Charity program, which is one of the means that he uses to bring his fitness boot camp and the community together to raise funds for local organizations.
We try to help local charities and other groups raise funds in ways that incorporate health and fitness, says Brawley.
That will definitely be the focus of this fundraising event, which102.
Its going to be an awesome event, Brawley explains. Well be putting up a mini obstacle course thats going to be a lot of fun for the whole family. Also, the personal trainers from North Park Fit Body Boot Camp will be on hand to put on a three-hour marathon circuit training workout that will be great for all ages and all fitness levels. will be held on the Lower playground at Albert Einstein Academy Charter School on April 30, 2013 from 4:30pm to 7:30pm. The school is located at 3035 Ash Street, San Diego, CA, 92
Brawley stresses that people can participate as little or as much as theyd like and as much as theyre able. The suggested donation for the event is $ 20 and includes the circuit training workout. The workouts will begin at 4:30, 5:30 and 6:30pm.
Its so important for kids to learn that fitness is not only essential, but a whole lot of fun, says Brawley. So many kids today are overweight and get very little exercise. For the first time in our history, children as young as nine years-old are being diagnosed with Type 2 diabetes. Albert Einstein Academy is starting an awesome new fitness program for their kids, but they really need some new equipment to do that.
Brawley is excited not only about the event at Albert Einstein, but the possibility of being able to do the same thing for other area schools and youth programs.
Wed love to do this same type of fundraiser for any of the other local schools or kids groups, he says. Its a worthy cause, a lot of fun for us and a great time for the local community.
Brawley hopes hell see much of that community on the obstacle course April 30th.
###
For more information about the fundraising event, visit the schools physical education website or call the school at 619-795-1190. More information can also be found by calling North Park Fit Body Boot Camp at 619-800-3480 or emailing info(at)northparkfitbodybootcamp(dot)com
Purses, jewelry, scarves and hats for sale Dec. 7
Over 300 purses have been collected; small and large, casual and fancy, genuine leather and hand knitted. Prices will range from $ 1-$ 36. Many of the designer bags are high quality name-brand handbags, such as "Guess," "Hobo International," "Nine-West …
The Scene Inside The Macy's Flagship On Thanksgiving Was Completely Insane
At the Coach store, a supervisor ascends a small step stool and gives his workers last-minute instructions and a pep talk. … The once-gleaming displays of handbags are already in shambles — $ 300 purses with their zippers open, strewn across tables.
Knicks' Troubles Run Deep
The Los Angeles Clippers were still the laughingstock of the league, "thanks" in no small part to Donald Sterling's miserly ways. The Phoenix Suns were competitive for a time, but seemed to be shrinking under the … All because Donald T. Sterling …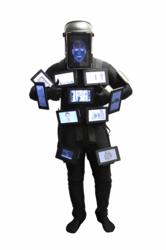 Westlake Village, CA (PRWEB) December 19, 2012
TabletMan, with a dozen plus tablets attached to his body, became an instant hit at the 2012 International Consumer Electronics Show (CES) in Las Vegas and IFA Consumer Electronics Unlimited show in Berlin. Accessory Power plans to continue that same momentum with this upcoming CES held between January 8th and 11th 2013 at the Las Vegas Convention Center.
The TabletMan is an interactive character that highlights our popular and upcoming items, said Accessory Power CEO Robert Breines. We have seven brands with over 1000 products and Im glad that TabletMan can bring attention to our booth.
GOgroove is the most popular brand. The GOgroove Pal Bot, an Android logo-inspired portable speaker with a small green body, moveable arms and glowing LED eyes, not only looks cute, but it delivers great sound. The GOgroove Bluesync SLK a universally-compatible Bluetooth stereo speaker and GOgroove FlexSmart X3 a Bluetooth FM transmitter that controls a playlist and can make hands-free calls are designed to make your driving experience safer and more enjoyable.
Each of our brands is catered to a specific consumer, said Alex Rocha, Senior Product Developer. For example, our GOgroove line features our audio accessories; ReVIVE has our charging and power products and USA GEAR for bags and cases.
One of the newest additions to the ReVIVE brand is the Solar Restore XL. In tune with conserving energy, this portable battery pack is charged solely by the power of the sun. The Solar Restore XL Panel is a solar add-on panel that charges the battery pack in half the time. Both come in black or white.
The USA GEAR brand has expanded in 2012 with the introduction of the FlexARMOR X line, products that are made with weather-resistant neoprene (heavy padding) exterior and scratch-resistant interior. DSLR camera sleeves and smaller digital camera bags, along with tablet cases, MP3 and digital voice recorder holders are all part of this new line.
Not only do our products have interesting looks, but they are very useful. I really cant wait for the international community to see more of them! exclaimed Breines.
Dressed in all black, the TabletMan will be a moveable display giving a virtual tour of the brands and representative products. Accessory Power and the TabletMan will be at booth 31862.
For further information regarding Accessory Power and its products, visit http://www.accessorypower.com
# # #
Accessory Power is an American-based manufacturing and distribution company, with offices in USA, Asia and Europe. Since 1980, Accessory Power has been dedicated to manufacturing quality consumer electronic accessories. An important distinction that divides this company is an unrelenting commitment to quality in each step of a products life; each product is backed by an industry-leading three-year warranty. Accessory Power is proud to say that they are, "The Power Behind Your Electronics!"
Austin, TX (PRWEB) December 16, 2012
103 million American shoppers do not trust cellular or tablet devises as a means to purchase online, new research out today reveals.
The study, conducted by Austin based digital marketing experts, The BIO Agency, showed that 41 per cent of smart phone and tablet owners would not use their devise to buy any type of good or service online, for example through an app or mobile-enabled website.
The findings revealed that:

Addison, TX (PRWEB) August 27, 2013
Fullers Jewelry, a friendly, knowledgeable jewelry store with over 60 years of history in the Dallas area, recently announced the launching of a new line of Pandora jewelry products. The Pandora collection adds to the many product lines already carried at Fullers.
Fullers has added Pandora jewelry to further tap into the female market. Pandora jewelry features bracelets, beads, rings and earrings. Their most popular sellers include silver, charm and bangle bracelets. The addition marks the connection between a big name jeweler Fullers, with a big name manufacturer Pandora.
Pandora products are sold in more than 50 countries. They have produced more than 800 handcrafted charms, available in a variety of metals, stones and gems. Pandora jewelry is sold in 2,781 stores in the United States alone and is known throughout the world.
Fullers has been in business for three generations in Dallas, TX, starting in 1949. Fullers offers the best value in jewelry in the Dallas/Ft. Worth Metroplex area. They offer a superior selection of jewelry backed by a commitment to quality and customer satisfaction. Fullers in-stock jewelry includes rings, earrings, necklaces and bracelets. Designers available at Fullers include Tycoon, Artcarved, Crown Ring, Eleganza, Romance, Seiko, Citizen, Bulova, G-Shock, and Triton. They also offer watch and jewelry repair and can buy back old jewelry.
Contact Fullers by calling 972-484-7581 or visit them at 15164 March Lane, Addison, TX. Store hours are Monday through Friday from 10 a.m. to 6 p.m., Thursday from 10 a.m. to 7 p.m. and Saturday from 10 a.m. to 5 p.m.
About the Company:
Fuller's Jewelry is a full-service jewelry store. Founded in 1949, Fullers Jewelry represents a rich history and a solid customer base. Their clientele continue to come back because of the Fullers commitment to satisfaction. Fullers history doesn't need to speak for them, because their unprecedented customer service will. Since 1949, three generations of the Fuller Family have been there to serve customers needs. Like the finest diamond, a customers business is most precious to Fullers. They are always ready to assist customers in every way. Visit their website today for more information, http://www.fullersjewelry.com/.
Royal Wood Floors suggest that when a Parajumpers is properly looked after, it will last many years. Furthermore, proper care implies less expense in terms of needing professional services.Regal Wood Floors will always employ the best practices when performing any hardwood floorboards buffing because the company is aware that some things do not mix, "Some floor coatings–polyurethane, for example–can be challenging to coat around because a new oil-based conclude won't adhere nicely. After it gets a lot of wear, it can be hard to tell a memory finish from some ones, like lacquer or perhaps varnish. Fortunately, many water-based merchandise will adhere to just about any existing finish (except a wax finish of some kind), therefore they're the best choice if unsure of what the outdated finish is,Inch explains Popular Aspects.
Parajumpers outlet are scar-like bands which are formed when the skin color is stretched outside of its limits in order to cater to a sudden increase in body sizebecause of pregnancy, body building, as well as weight gain, for examplewhich produces small tears within the skin. Stretch marks can also happen because of hormonal adjustments (the kind that come with maternity and puberty along with from external real estate agents like hormone replacement therapy as well as steroidal drugs). Although they can easily pop up almost anyplace, stretch marks are most likely to happen in areas where the body stores its excess fat, such as the belly, bosoms, hips, and legs (an exception to this tip would be in weight lifters, who typically acquire stretch marks in the skin color around the bigger muscles, like the biceps). Whenever theyre newly formed, stretchmarks look red and glossy, but after a few weeks will turn any whitish color and quite often become slightly indented as well as depressed. While they do become less noticeable with time, once theyre formed, stretch marks are almost always here to stay.
Style Fashion 7 days has tripled in size which is breaking new ground in its landmark Fourth season with established endorsement by the capital of scotland- Los Angeles.That's important, especially to homeowners, businesses, and real estate investors wanting to keep Parajumpers within the best possible condition.The particular pulsed dye laser supervises short bursts (as well as pulses) of light that will specifically target reddish areas in the skin and/or the collagen, and so has been used for many years to help remedy things like enlarged bloodstream, rosacea, and red birthmarks. Moreover, in addition to its ability to deal with these conditions, your pulsed dye laser in addition works to increase each collagen and elastin, two key proteins in the pores and skin responsible for its framework and elasticity.
Beautiful PJS outlet and embellishments can be splayed across giving any playful yet womanly look. As if that will weren't enough, anyone that buys a used console during the promotion will get a preowned game worth up to $20 for free. Which price point includes a good deal of excellent exclusives that you may have missed out on if you skipped one console or the other this kind of generation.Aquatic Motivated Style: An oceanic design emerged by way of streaming, ethereal silhouettes across any blue color system from pale blue to cobalt to indigo including greens and whites.
Sandals in museum are 10000 years old
Exhibit curator Niles Reynolds said they are the oldest sandals in the world. The Fort Rock sandals were excavated in the 1930s. Archaeologist Luther Cressman found them in Southern Oregon below a layer of dirt and ash, believed to be from the eruption …
Herald and News: Oldest Sandals In The World Come To Klamath Museum
Back then, Reynolds said the cave where the sandal was found would have been located on the shores of a lake, which would have been an important location for food. The Fort Rock Sandal was found caked in mud, buried beneath a layer of ash thought to …
Krohn: A casual attitude to dressing for success
We once had a news editor whose wardrobe consisted of three thread-bare knit shirts, differentiated only by colors of stains and locations of cigarette ash holes. The Newsweek dress code bans jeans, sandals, baseball caps, short skirts, visible body …
Miami, FL (PRWEB) March 31, 2012
Miami based 8&9 Clothing Company emerged as one of the East Coast's most recognized streetwear brands. 8&9 has a cult following amongst sneakerheads, most of whom don't know a huge portion of the brands startup capital came from the owners' investment in the sneaker market it.
Owner Ray Guilbault and co-founder Raymond Figueroa recognized an opportunity in sneaker resale during the late 90′s. Avid sneaker collectors, they used status as FootAction gold card holders and Nike Town's 800# giving them access to stock at any US Nike Town store to amass a collection they sold, leveraged to purchase others and sold again many times over. Ray Guilbault, estimates more than 6 figures worth of sneakers bought and resold at a rate that returned an average 100% profit nearly every year.
8&9′s latest expansion includes a Miami flagship store and more stock allocated for international distributors. Sticking to the playbook they launched with, 8&9 owners will fund this expansion with a quick influx of cash from more than 500 sneakers they've invested in. The brand which is already profitable uses the added capital to remain independent and ensure they don't rely on outside investors.
"Sneakers are a better investment than most markets offer. Like anything, you have to know what to buy and when to sell. Investments can't be clouded by emotion or nostalgia over a certain pair. If you buy what you want to wear you run a high risk of loss. Buy what the market demands but won't be able to get enough of" that's where Ray Guilbault attributes their success. Also noting many sneaker investors chase hype that doesn't always result in a long term profit. In that case he recommends buying at retail and sell as soon as the market reaches an acceptable peak using care to stay ahead of the downturn.
Some sneakers run returns up to 1000% percent. It's widely common to see sneakers doubling in price within 24 hours of their release. 2012, will see Nike releases do the same with sneakers like the Galaxy Foamposites which shot up 1000% in 24 hours and the Air Yeezy 2 which is Kanye West's signature Nike. The last Yeezy's released at just over $ 200 but are almost impossible to find for less than $ 1000. Ray says they both have personal pairs but don't expect to see any 8&9 owners selling their Yeezy's anytime soon. For these two entrepreneurs sneaker collecting isn't always about the money.
Visit 8&9 Clothing at http://www.8and9.com or follow @8and9 on twitter
###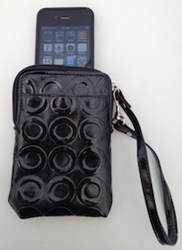 Little Rock, AR (PRWEB) July 13, 2013
Nifty-Nifty.com, the leading online retailer of nifty, innovative products as seen on TV, is excited to announce that their new product, Circles Luxury All In One Cell Phone Wallet Combo, is a favorite among trendsetters. Many have wondered how to carry only their cell phone, credit cards, ID and money, and still look trendy.
Nifty-Nifty.com has the answer – Circles Luxury Cell Phone Wallet. With a zipper top closure, slip pockets inside and outside and ample space for the cell phone, Circles Luxury Cell Phone Wallet has it all and its compact and trendy. Circles Luxury Cell Phone Wallet is now is now available to shoppers in USA and Canada with zero shipping costs and to shoppers in New Zealand, France, Israel, Mexico, Spain, Italy, France, Chili, Brazil and elsewhere internationally – just about anywhere, with a low shipping cost of just $ 5.00. The Circles Luxury cell phone wallet showcased on TV and is now available at Nifty-Nifty.
We have sold innovative, trendy products for quite some time, explained Wendy Miller, co-owner of Nifty-Nifty.com.
The Moncler regarding Commerce is an suggest for the McKinney business community as well as serves as the one business voice associated with McKinney. The McKinney Chamber associated with Commerce is the next largest Chamber inside the Metroplex and holds any four-star accreditation with the Oughout.S. Chamber involving Commerce. The Holding chamber proudly serves above 1,200 new member businesses representing over 39,000 employees throughout the North Tx Region. With a abundant heritage of management and collaboration, your Chamber works in consultation with the City of McKinney, local community partners and the corporate and business community to promote, endorse for and develop business.
Open moncler outlet usa C Schedule a Holding chamber tour for yourself plus a not-yet-member anytime between 3:00 and Some:30 p.michael. on Friday, Oct 18. Members that bring a potential customer will assist them to learn more about McKinneys business community along with meet staff and definately will receive a Thank You present for their support. If your prospect joins the actual Chamber, the alluding member will also become eligible for a grand winning prize drawing. Schedule a tour with the Chamber from 972-542-0163 by noon upon Thursday, Oct 16. Include the prospects identify and business.
Moncler jackets will host a soccer clinic that will be led and co-sponsored through legendary international little league pros now trainers and mentors Tony Igwe, 1968 Olympian and professor at Chabot College inside Hayward and former coach/player with the San Jose Earthquakes and Founder of Go Some Gold Soccer Educational institutions, David Gold prior to San Jose Earthquakes game and welcomes all individuals who want to really make a difference to help volunteer and also assist youth between the ages of 5-17 at the soccer medical center. The soccer clinic will take place coming from 10:00 a.m. – Eleven:30 a.michael. at Chabot Colleges soccer field in Hayward that can include basic Information and facts soccer skills and techniques, strength training and physical fitness activities and most importantly selling healthy and productive lifestyles and relationships.
buy moncler, who dished up as a senior atomic policy and biceps and triceps control advisor from the administrations of Presidents Jimmy Lewis, Ronald Reagan, George .W. Bush, Bill Clinton and George W. Bush, has offered on Drapers Board involving Directors since '07. He is also a principal at the Scowcroft Group, an international business advisory firm.Burns succeeds John Gordon, a retired Air Drive general, who got served as ceo since 2008.